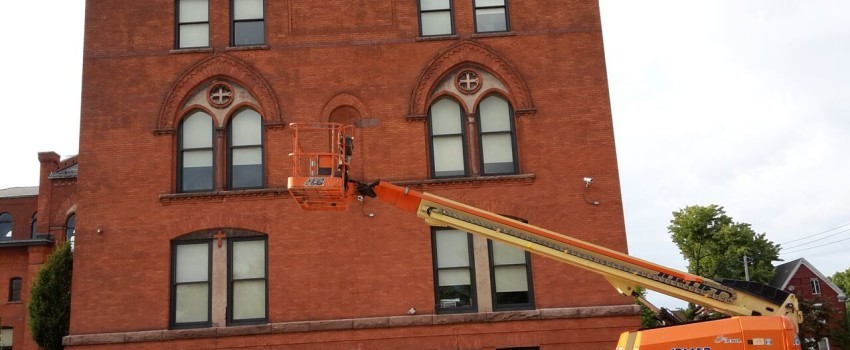 We make the success of your business our business! Carolina Clean provides complete commercial cleaning solutions to help your property stand out. No matter how big your space is or what needs you have, you can always expect the Carolina Clean team to bring:
Flexible scheduling that makes it easy to accomplish our work on your timeline
Committed professionals who are courteous, efficient, and skilled
On-time results so you can get great service without any disruption to your workflow
First-rate equipment to make sure that you get the best quality in the industry
Professional curb appeal and quality that stands the test of time
Our goal is to offer one central, reliable source for all of your commercial cleaning needs.
We provide expert services in (click each to learn more):
Window Cleaning
Our WaterFed System cleans your panes with purified water. After removing dirt and buildup, we complete the wash to leave your windows streak-free. This technology allows us to safely and effectively clean up to five stories from the ground.
Pressure Cleaning
Our power washing systems remove stains, buildup, and residue to restore your surfaces. We also provide soft washing, which provides effective exterior building cleaning solutions without the high pressure impact. We focus on:
Exterior cleaning and storefront cleaning
Driveway cleaning
Sidewalk cleaning
Parking lot cleaning
Building Exterior
Gutter Cleaning
Roof Cleaning
Soft washing solutions are the most effective way to lengthen the life of your roof and improve curb appeal. We use a special cleaning detergent to remove black stains and help your roof maintain its quality.

Graffiti Removal
Graffiti is more than just an eyesore, it can be a deterrent to business. When potential customers see graffiti many automatically assume that the area, and your business may not be the safest place. So for the sake of your business and your wallet, graffiti should be removed right away.
It takes experience to completely remove graffiti the right way, without damaging the underlying surface, the kind of experience that Carolina Clean offers. For years we have been helping our neighbors in the business community remove unwanted graffiti from their property. Our graffiti removal service is safe, quick and effective and can be scheduled around your busy day.

To explore the tailored solutions that Carolina Clean can give your commercial property, reach out with a free estimate today.
Recent Commercial Cleaning Results